Rockets have been fired from the restive Tigray region of Ethiopia across the border at the capital of Eritrea, local media and diplomats say.
Explosions were heard in Asmara as several rockets landed on the outskirts of the city but there were no immediate reports of injuries.
Tigray's ruling party, which is locked in a conflict with Ethiopia's federal government, had threatened an attack.
The party's forces fired rockets earlier at another region of Ethiopia.
The Tigray People's Liberation Front (TPLF) said it had targeted two sites in the Amhara region on Friday and warned of further strikes.
Tension between the TPLF and the federal government escalated over the past month.
Eritrea fought a bloody war with Ethiopia two decades ago with final peace only agreed in 2018.
Fighting over Tigray has also affected Sudan, with at least 17,000 civilians crossing the border from Ethiopia, according to the UN.
What happened in Eritrea?
On Saturday night, residents of Asmara reported hearing loud explosions.
"The reports we're getting indicate that several of the rockets hit near the airport," an unnamed diplomat told AFP news agency.
Eritrea's semi-official Tesfa News website tweeted that two rockets fired from TPLF-held territory in Tigray had missed the airport and landed on the outskirts of the city.
A TPLF spokesman had earlier threatened missile strikes against Eritrea, having accused its forces of crossing into Ethiopia to back federal forces there.
The Eritrean government has denied any role in the conflict but the BBC's Africa regional editor, Will Ross, says reports of fighting along the border, and of soldiers being treated in Eritrean hospitals, suggest the opposite is true.
What do we know about the Amhara attacks?
The Ethiopian government's emergency task force said rockets had been fired towards the cities of Bahir Dar and Gondar, in Amhara state, late on Friday.
One rocket hit the airport in Gondar and partially damaged it, while a second fired simultaneously landed just outside of the airport in Bahir Dar, an official told Reuters news agency.
Details on casualties were not immediately clear. Both airports are used by military and civilian aircraft.
Forces from Amhara have been fighting alongside their federal counterparts against Tigray fighters.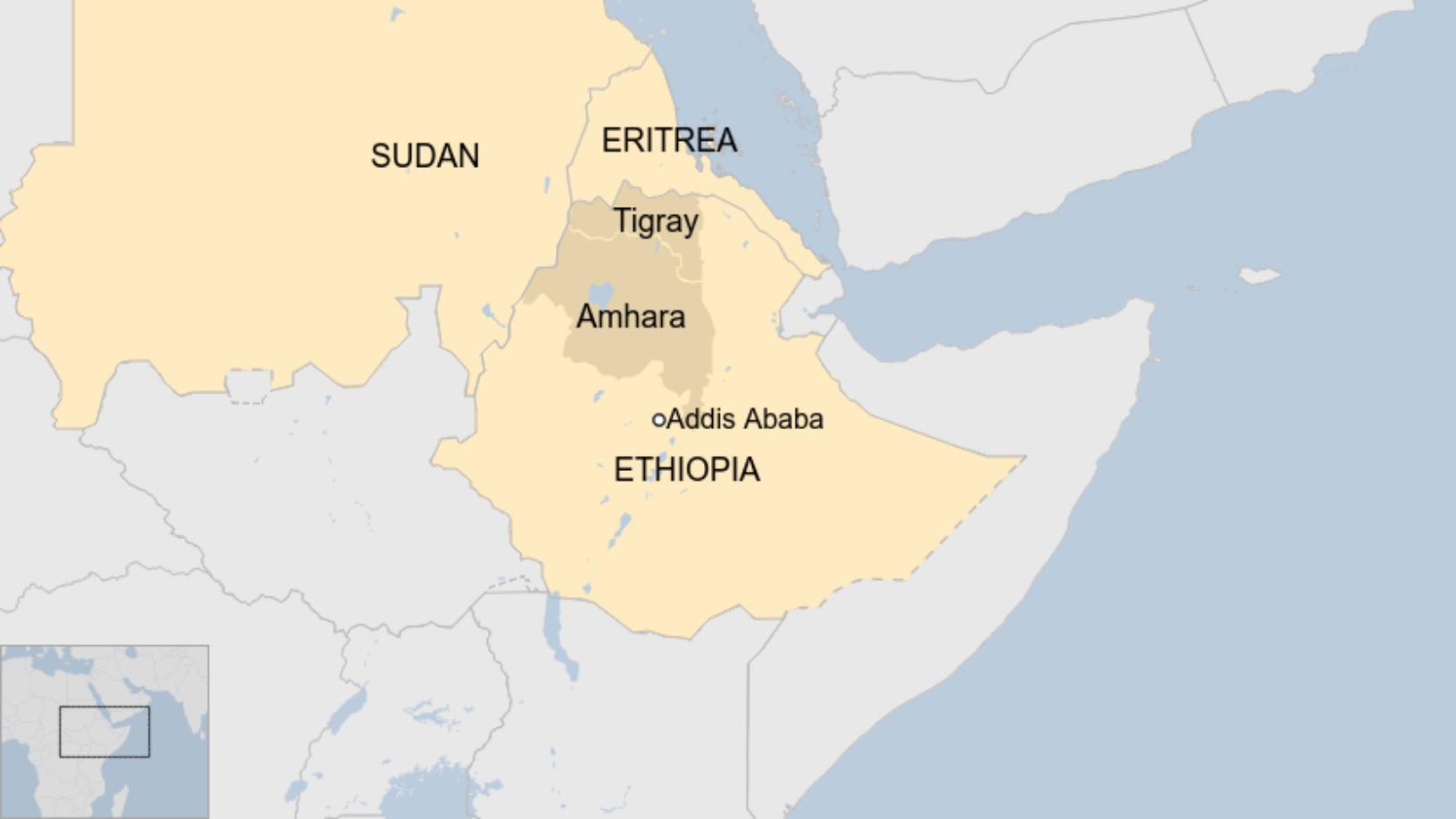 The TPLF said the rocket attacks were retaliation for recent air strikes conducted by Mr Abiy's forces.
"As long as the attacks on the people of Tigray do not stop, the attacks will intensify," spokesman Getachew Reda said in a Facebook post. Speaking later on Tigray TV, the spokesman warned of further strikes.
Ethiopia's prime minister has predicted a swift military victory in Tigray, but he may have underestimated his enemy, says our regional editor.
Tigrayan troops are experienced and know the mountainous terrain well, he says. There are fears that a drawn-out regional conflict would have horrific consequences for civilians in Ethiopia and the wider Horn of Africa.
How bad is the violence?
Hundreds have died in Ethiopia since the fighting began, with reports of a civilian massacre emerging this week.
Human rights group Amnesty International said it had confirmed that "scores, and likely hundreds, of people were stabbed or hacked to death" in the town of Mai-Kadra (May Cadera) on Monday.
It said it had seen and "digitally verified gruesome photographs and videos of bodies strewn across the town or being carried away on stretchers".
Prime Minister Abiy Ahmed has accused forces loyal to Tigray's leaders of carrying out the mass killings, while the TPLF has denied involvement. Ethiopia's human rights commission said it would send a team to investigate.